Booga Bag body done
(Saturday, November 06, 2004 @ 1:56 AM)
Finished Booga Bag body

I still have to weave in the ends and make the i-cord, but the bag itself is all finished! Right now (before felting) the bag is almost 8 inches wide by 4.5 inches deep along the bottom, by 11.5 inches tall. I've used just shy of 2 skeins of the Noro (you can see the little bit left over from the second skein). I wonder how much of the third skein most people ended up using. Since I only have the i-cord to do out of it, I would guess I'll only be using about half that skein, if that.
The bag is supposed to felt down to 4.5"x7.5"x8.5" Hmmm... I guess the dimensions aren't going to turn out quite the same, unless stockinette stitch felts differently (ie. way more) than the garter stitch of the bottom.
Something else I find interesting (probably just because this is one of my very first knit objects) is how different 34 stitches are compared to 34 rows.
I'm also rather excited that it actually looks well knit. The stitches look even (and what little unevenness there is can easily be accounted for by the fact that the yarn is thick in some places and thin in others), even though it didn't feel like I was knitting consistently as I went along. Knitting (or at least stockinette stitch) seems to be pretty forgiving compared to crochet in that regard.
I used my PDA as both my portable pattern and my row counter. Every time I finished a row, I'd make a tick mark. It worked out well for me, so I'll probably use it that way from now on.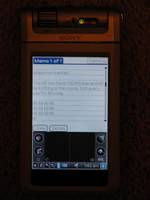 And now for some comic relief. After a little too much knitting at once, I decided the bag was looking a bit like a beret:
Ok, nope... not a beret

I think I needed a break.