Let the drooling begin
(Monday, November 29, 2004 @ 8:55 PM)
Take a look at all the lovelies I got in the mail.
First, some cashmerino:

Even with sunlight to take the pictures by, I still had to lighten the image to get the color even close to what it looks like in person. It's a mauvey-lavender color, but it does look darker and brighter in direct sunlight. The plan is for it to become this sweater:

Man, is this stuff soft! I got a great deal on it on ebay (normally, I wouldn't even think of buying this yarn... way too pricey). It came in a lot of 20 balls, so when I'm done, there should be plenty of extra, and I can either make myself some matching socks (I'm wanting to design a cuffed sock with the cable pattern from the neckline on the cuff), or sell the extra to recoup some of the $$, or both, depending on how much I end up using.
Now, onto the REALLY good stuff. I stumbled onto a fantastic new source for handpainted yarn. This artist has the most incredible color sense. I adore so many of her colorways! Here's what I got:
Byzantine on alpaca

Closeup of Byzantine

Emilie on Alpaca

Closeup of Emilie

Last of the Summer Berries on alpaca

Closeup of Last of the Summer Berries

Briar Rose in alpaca

Closeup of Briar Rose on alpaca

Briar Rose on cashmere

Closeup of Briar Rose on Cashmere

I wasn't originally planning on getting the cashmere, but the artist posted about how the different fibers picked up the colorways differently, and some of what I'd ordered turned out such that it wouldn't work for the project I had in mind. I wanted to do
Clapotis
in Water Lillies, and I ordered it in merino, because that's the least expensive. On the cashmere, the shades in the Water Lillies colorway look smokey and sophisticated... on the merino, they remind me of bubblegum or a handful of kids candy (cute, just not what I had in mind for Clapotis). So, she offered to let me exchange it.
Now, Axelle is making Clapotis in Water Lillies in the Cashmere. I'm not quite sure whether to be insanely jealous, because *hmph* I want that, and 3 skeins of cashmere is JUST TOO MUCH for my budget; or to be greatful because I can see if it does turn out as great as I thought it would (yeah, and what if it does... then what do I do? I almost wonder if she's doing it to kill what tiny bit of self-control I have); or to scramble around to find the money somewhere because I just MUST HAVE IT. ARGH! (Okay... Water Lillies turned out much better on alpaca than it did on the merino, so maybe I can still do it without being fiscally irresponsible... and, the Briar Rose on the alpaca just happens to look fantastic with the cashmerino... so, maybe more than one Clapotis in my future... and I didn't even like the pattern when I first saw it!)
The colors are definitely the most vibrant on the cashmere, but most of the colorways turn out great on the other fibers, just maybe not exactly as they look on the cashmere. I'm rather happy with what I got, and I'm almost 100% certain I will order from this artist again... because not only does she have great color sense, she's also gracious and gives wonderful customer service.
I know, I know... you're jealous now and you all want some too.
Here's where to get it: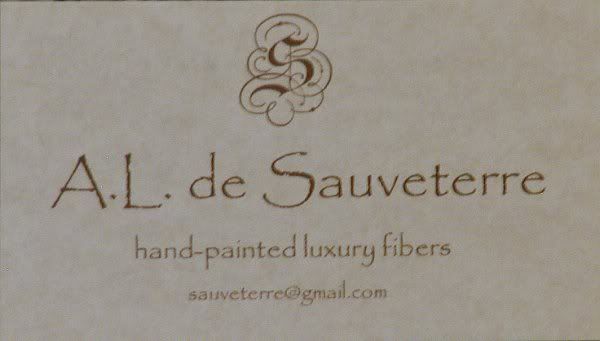 A. L. de Sauveterre hand-painted luxury fibers @ Two Pointy Sticks
PS... I have a confession. I also ordered some yarn for
Ribby Cardi
. That's another pattern I wasn't interested in to start with, but everybody's doing it, and the colors
elann
had to choose from were calling to me to do something with them and I couldn't just order without something in mind, AND one of the colors I was liking the best was about to sell out, so you see I just HAD to order it this weekend (the color is gone now, btw, so if I hadn't, there's no question I would've missed out). *PHEW... take a breath, girl!* At any rate, here's the colors I'll be doing it in (I think the blue will make it look great with jeans):

I just love how you can customize the colors of this pattern! If you were to buy it in a retail store, you'd have a choice of maybe 4 or 5 sets of colors... doing it this way, there were hundreds of colors and thousands of combinations possible... there won't hardly be any two alike!
But... I sure feel like I'm spending myself out of house and home! It is just so wrong that making stuff yourself costs more than buying the same thing already made does.